President Biden's weakness has led longtime U.S. allies like Brazil, the United Arab Emirates and others to turn to China and abandon the proposition that America will always be the prime superpower in the world, Sen. Tom Cotton, R-Ark., suggested Friday.
Cotton responded to recent reports on "Hannity" regarding China's rising influence in all parts of the globe – and that China, Russia and Iran also present a growing "axis of evil" not unlike past nefarious alliances.
"I do agree with you that axis of evil increasingly centered on Beijing, as you laid out, is emerging," Cotton told host Sean Hannity.
"It's emerging in large part because of President Joe Biden's weakness and his tendency to blame America and our allies first."
US SAILS GUIDED-MISSILE CAPABLE SUB TO MIDEAST IN SHOW OF FORCE AGAINST IRAN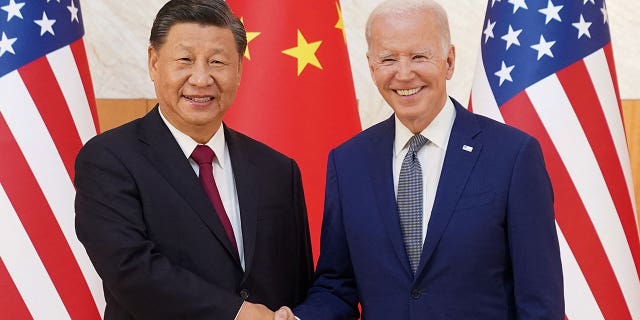 Cotton said Brazil's new liberal President Luiz Inacio Lula da Silva has turned to China with little apparent notice by Biden, despite the country's role as the premier economy in South America.
"[A]s a result of Joe Biden's incompetence, his weakness, and his tendency to blame America first, look at the president of Brazil. He's left-wing. He's critical, if not openly hostile to, America," he said.
"He's kind of typical of many left-wing leaders that have come to power in recent years in Latin America: Joe Biden doesn't say a word negative about them. And what happens? You have them running off to Beijing or welcoming Iranian warships in Latin America."
Cotton said history can indeed repeat itself, pointing to 1860 when the Confederate States of America formed and declared war on the Union, or the 20th Century when World War I and II broke out.
US DESIGNATES WALL STREET JOURNAL REPORTER EVAN GERSHKOVICH AS 'WRONGFULLY DETAINED' BY RUSSIA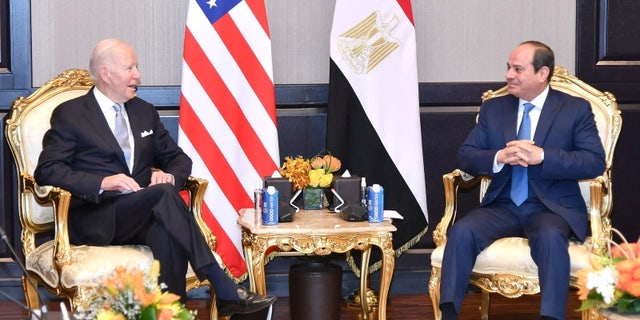 "Human nature is timeless and unchanging. Therefore, we are prone to the same mistakes if we don't learn from the lessons of history," Cotton said.
Egypt, which has received billions of U.S. taxpayer dollars in foreign aid, purportedly planned to ship as many as 40,000 rockets to American rival Russia, likely to assist in it war on Ukraine.
Information gleaned from the leak of documents by a Massachusetts Air National Guardsman claimed President Abdel el-Sisi was at least seriously considering the move.
Hannity reported the Emiratis were also in touch with the Russians. The Associated Press reported documents from the same intel breach described U.S. spies catching Kremlin intelligence officers boasting they had convinced Abu Dhabi "to work together against US and UK intelligence agencies."
The Emiratis however dismissed the accusation as "categorically false," the AP reported.
Cotton expressed outrage at the report, suggesting such behavior as well as China's work to forge a deal between Iran and Saudi Arabia undermines President Trump's groundbreaking Abraham Accords.
"Again, what you see is President Biden creating daylight — as he sometimes says, or President Obama used to say – or criticizing the governments of Israel and Saudi Arabia and the United Arab Emirates."
Cotton said Biden also did not help the geopolitical situation when he publicly cast U.S. ally Saudi Arabia as a "pariah."
"I think increasingly you're seeing many traditional American partners and allies hedging their bets because they're worried about American resolve and strength under President Biden," he said.
The Associated Press contributed to this report.