A couple says they were randomly attacked by a mob while walking in downtown Chicago amid the "Teen Takeover" that turned into a violent rampage over the weekend.
"Ashley" and "DJ" told "America Reports" on Tuesday that they had been looking for a spot to get food Saturday night when they found themselves trying to navigate a large crowd. People in the crowd pushed the couple, and when DJ stood up to them, fighting broke out.
"As soon as they pushed me, I told DJ," Ashley said. "I said, 'Hey, they just shoved me.' And he asked them, he was like, 'Yo, don't shove her. Who shoved her?' And as soon as he said that, everything went crazy. … They said they were going to kill us."
The mob pushed Ashley to the ground and immediately turned on DJ to beat him. They robbed the couple, stealing their shoes, phones, a pair of glasses, an Apple Watch and a hat. Video of the attack during the violent teen takeover of the city went viral.
KAYLEIGH MCENANY CALLS OUT LORI LIGHTFOOT, PROGRESSIVE MAYOR-ELECT AFTER CHICAGO'S 'TEEN TAKEOVER' CHAOS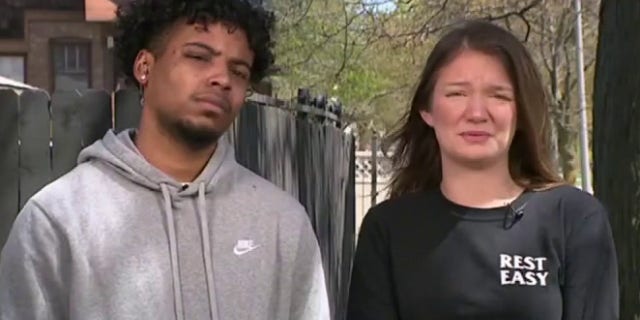 "Everyone went for him, and it ended up in the middle of the street," Ashley said. "They were jumping him in the middle of the street. It got pretty bad."
DJ, who is suffering from injuries to his face, shoulder and back following the incident, told Fox News the attack was completely random.
"It was very random because all we were doing [is] we had just left Nordstrom, and we were looking for somewhere to eat, and we saw that group, and they just thought they were tough, and they wouldn't move out the way, just out there being stupid, young and dumb, trying to prove a point for nothing," DJ said. That's how that happened." 
Ashley said she saw police drive past them as she was getting up from the ground after the attack. 
"They almost had to avoid the collision to get past us, but they just drove by the incident in the middle of the street," she said.
CLICK HERE TO GET THE FOX NEWS APP 
A good Samaritan named Lenora along with her husband picked up the injured couple and took them to the hospital.
"God bless her," Ashley said. "She gave us shoes, took us home, took us to the hospital. Thank you so much. I don't know where we would have been without her."