A trio of hunters in Central Florida harvested what could be the second-heaviest alligator in the state's history.
Kevin Brotz, an alligator hunting guide and owner of Get Bit Outdoors fishing supply store in Orlando, posted a photo to Facebook showing the 920-pound gator he caught alongside Darren Field and Carson Gore.
Brotz captioned the post with the phrase, "Gator of a lifetime."
800-POUND, 14-FOOT ALLIGATOR CAUGHT IN MISSISSIPPI BREAKS HARVEST RECORD: 'A LOT OF LEATHER'
The group caught the 13-foot, near half-ton alligator in the early morning hours of Friday, Aug. 25, from a local lake, Brotz said in a phone interview with Fox News Digital.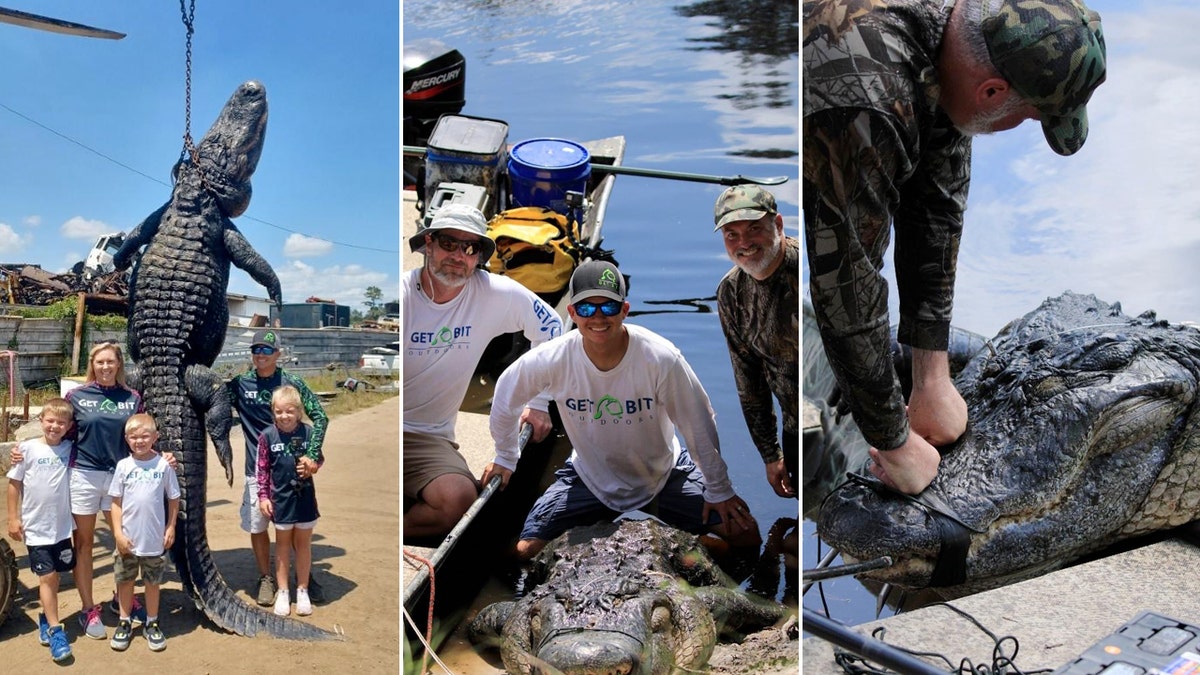 "Between personal trips and clients, I've done probably close to a thousand alligator hunts, and I've never seen a giant like this," said Brotz. "For that reason, we're doing a full body mount. He will be forever memorialized."
AMERICA'S STRANGEST ALLIGATOR ENCOUNTERS: SEE THESE 13 STARTLING STORIES
Brotz said it took him, Field and Carson about four hours to land the gator.
Brotz said that in the 20 years he's been a hunting guide and licensed charter captain, extremely large alligators seem to show muscle decline, but this one appeared healthy.
ALLIGATOR FOUND IN LOUISIANA HOME REPORTEDLY SNEAKED IN THROUGH DOG DOOR: 'I JUMPED BACK'
It took the trio two attempts to hook the gator, Brotz recalled.
The alligator crawled to the bottom of the lake in what appeared to be an attempt to outwait the group, according to Brotz.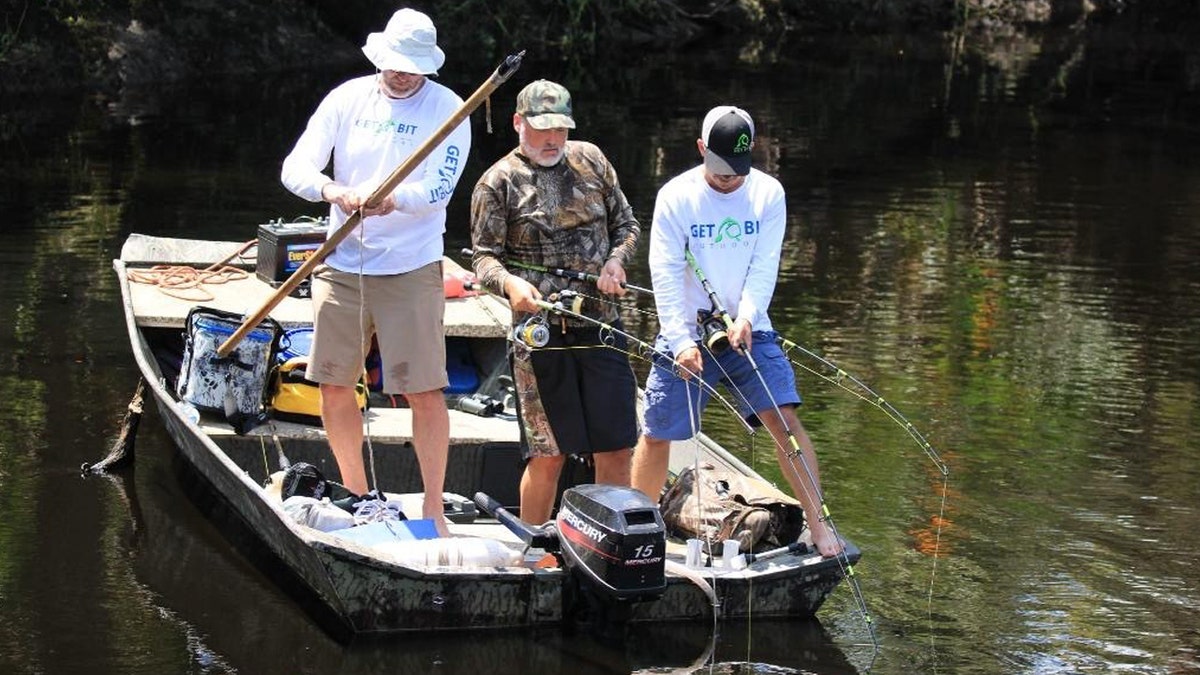 "He didn't death roll. He was honestly exhausted when he came up," Brotz said. "It was like looking into a T-Rex's eyes. It was surreal."
CLICK HERE TO SIGN UP FOR OUR LIFESTYLE NEWSLETTER
Current weight records published by the Florida Fish and Wildlife Conservation Commission (FWC) show that the state's heaviest male alligator weighed 1,043 pounds and measured 13 feet, 10.5 inches.
The gator was caught from Orange Lake in Alachua County.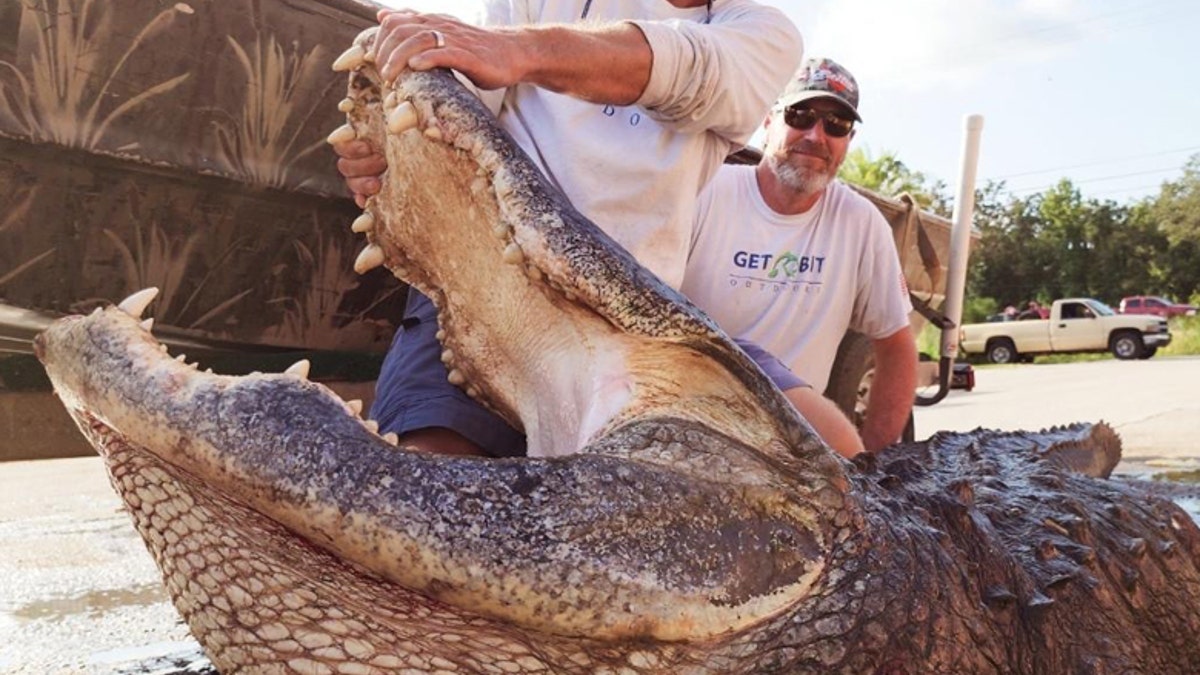 Fox News Digital reached out to the Florida FWC for comment about the 920-pound gator's record status.
CLICK HERE TO GET THE FOX NEWS APP
"To have our names on the record list [potentially], I never even thought about that when we first harvested it," Brotz said. 
"It'd be amazing. It's humbling. It's very cool for our families. This is part of our livelihood, not just for income, but for pleasure. It's a passion," he added.