Donald Trump remains on top of the polls among Republican presidential candidates, but the gap between the former president and his onetime political protégé could be narrowing following the first GOP debate.
A new poll from Public Opinion Strategies — a polling firm working for the DeSantis' campaign — shows Florida Gov. Ron DeSantis closing in on Trump among Iowa voters.
Releasing a campaign poll usually comes with an agenda or narrative and so the results should be taken with a grain of salt.
The poll, obtained by Fox News Digital, interviewed 400 Iowa likely GOP caucus-goers and included a ballot test that saw DeSantis rise from 14% support up to 21% post-debate. 
GOP VOTERS SAY DESANTIS DELIVERED BEST PERFORMANCE IN FIRST PRIMARY DEBATE: POLL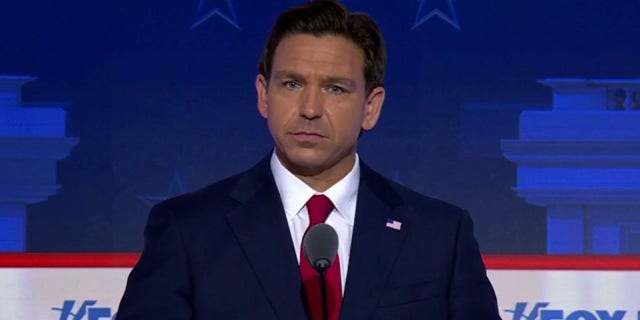 Trump slid by one percentage point, from 42% to 41%.
Former South Carolina Gov. Nikki Haley also saw a large bump in the polls, rising from 3% support to 11% post-debate, while South Carolina Sen. Tim Scott slid from 8% to 7%.
Businessman Vivek Ramaswamy saw the largest slide, dropping from 10% support to 7%. Former Vice President Mike Pence remained at 2% in the poll.
Both North Dakota Gov. Doug Burgum and former New Jersey Gov. Chris Christie dropped from 3% to 1% support after the debate.
Former Arkansas Gov. Asa Hutchinson saw a bump, as well, getting up to 1% support post-debate, up from being below 1% before the debate.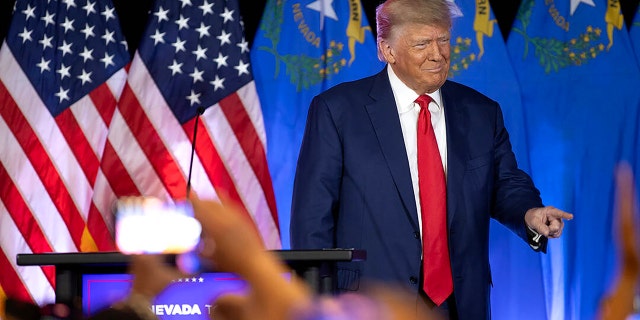 The Public Opinion Strategies poll also found DeSantis closing the gap against Trump in a head-to-head matchup, with DeSantis having 40% support to Trump's 43% post-debate.
Pre-debate, DeSantis largely trailed with 34% compared to Trump's 51%.
DESANTIS RESPONSE TO VIRAL 'RICH MEN' SONG QUESTION GETS LOUD REACTION FROM CROWD
The poll also found that DeSantis topped the first debate, with 33% of respondents saying he was the strongest conservative on stage and 34% saying he can defeat Trump.
Thirty-seven percent of respondents said DeSantis would be able to defeat President Biden, while 32% said he was the strongest leader on stage. DeSantis also topped the border issue in the poll.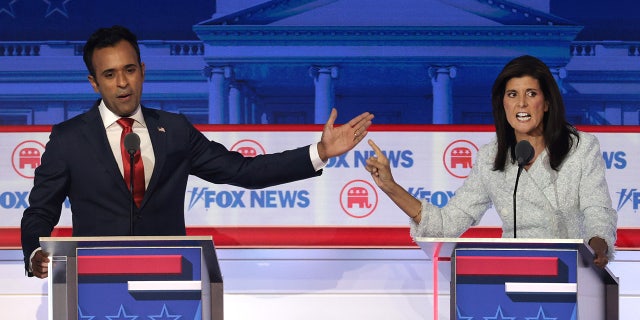 The second-place candidate was Ramaswamy, who 15% of respondents said was the strongest conservative and 17% said could defeat Biden. Eleven percent said Ramaswamy could defeat Trump.
However, Haley beat Ramaswamy in terms of being the strongest leader among respondents, sitting at 15%. Scott was seen as a strong conservative, with 13% saying he was the strongest.
Pence was also seen as a strong conservative on stage, with 12% viewing him as the strongest conservative Wednesday night.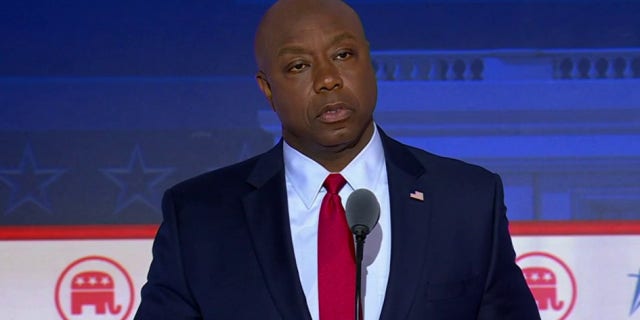 Ramaswamy also faces some unwelcome news from the poll, which found that the tech entrepreneur "was simply a placeholder position on the debate stage for core Trump voters."
Of respondents who believe Ramaswamy won the Wednesday debate, 60% would vote for Trump in the general election. Twenty-one percent would vote for Ramaswamy and 10% for DeSantis.
Among those who believed DeSantis won the debate, 64% are behind the Florida governor, 28% would vote for Trump, 3% for Scott, and 3% for Haley.
CLICK HERE TO GET THE FOX NEWS APP
Fifty percent of respondents who believed Haley won the debate said they would be voting for her, while 13% said they would vote for DeSantis, and 12% backed Trump.
The poll was conducted Aug. 24, the day after a fiery Wednesday debate among eight GOP presidential candidates. It had a margin of error of plus or minus 4.9 percentage points.