A man was attempting to go to work on Saturday morning in Washington, D.C. when climate protesters showed up to block the road. He responded by flipping the bird and calling them "motherf—er[s]."
"I want to work, I want to go to work," the man said. He proceeded to yank the banners out of their hands. 
"You don't give a f—k," a woman yelled at the protesters. At one point the woman screamed into one of their faces. "Get the f–k out of here. We have to go to f—ing work," she said. 
"We got kids to feed, b—h." 
GERMAN WOMAN DRAGS RADICAL CLIMATE ACTIVIST BY HAIR FOR BLOCKING TRAFFIC AS PUBLIC'S ANGER MOUNTS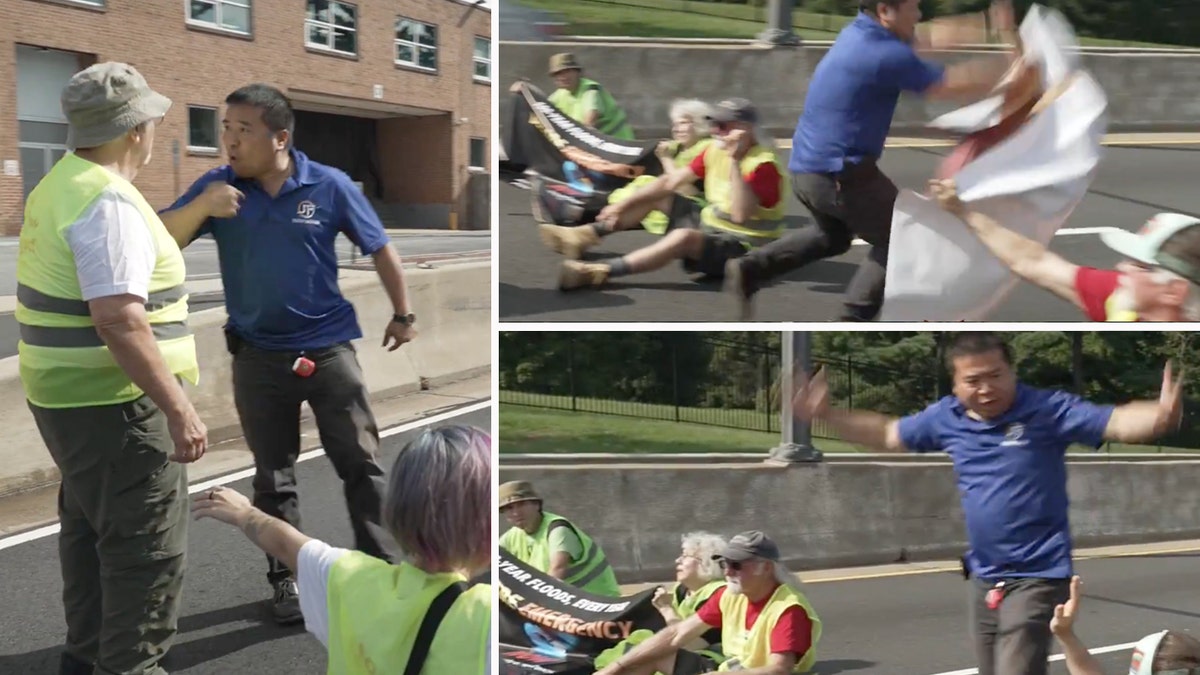 The protest was staged by Declare Emergency, an anti-fossil fuel group claiming the industry causes "horrors of a magnitude never before experienced in our existence."
The group defended its disruptive methods, stating, "Our government continues to lead us to the edge of no return. We must stand up and defend ourselves. No one else is going to do it. It must be us, if we want to live. Our methods must be disruptive." 
The D.C. protest caused a ruckus among drivers who said they were attempting to go to work. The footage was captured by Will Allen-DuPraw at News2Share. 
TRUCKER IN GERMANY DRAGS RADICAL CLIMATE PROTESTER WITH VEHICLE DURING BRUTAL CONFRONTATION
"There's a better way to protest," another man said.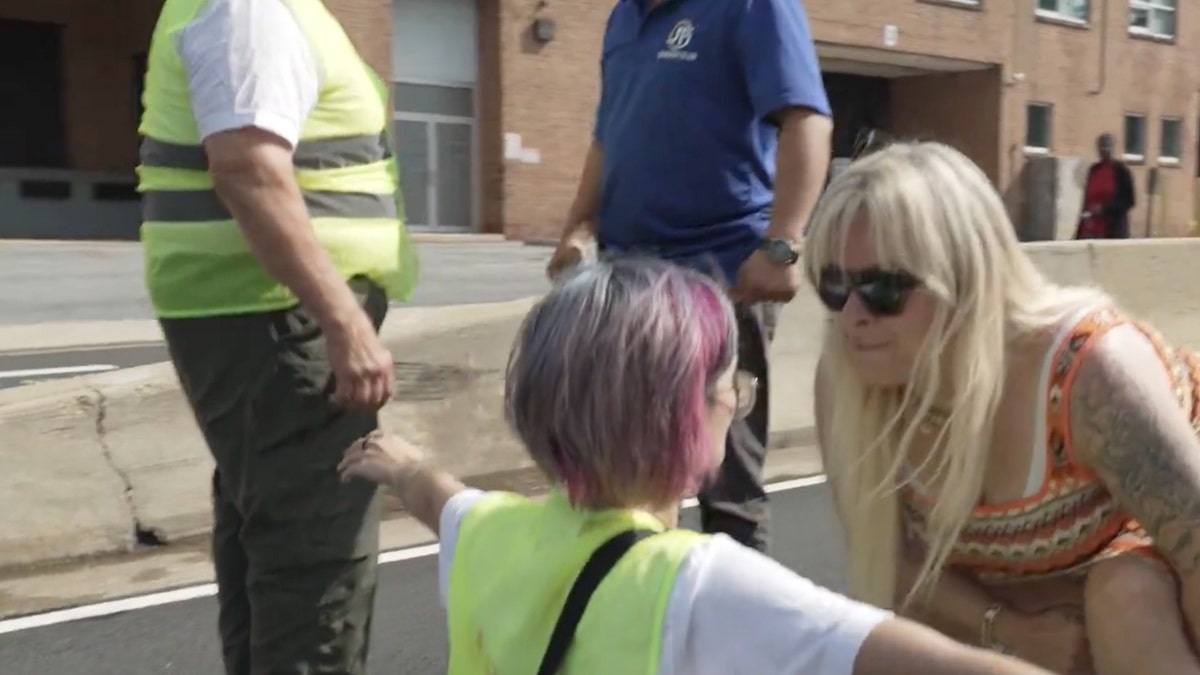 The group openly discusses the importance of getting arrested in their protests on its website. 
"Mass arrest is an important strategy of historical nonviolence movements that demanded system change from their governments," Declare Emergency said. 
"[E]very time the state imprisons us for nonviolently demanding a livable future, we win a moral battle. The more the state oppresses those asking for the right to live in a sustainable world, the less tenable its moral stance becomes in the eyes of the greater public."
The protests in the U.S. follow protests in Europe which featured activists gluing their hands to the road to prevent them from being dragged away by drivers. The activists came from "The Letzte Generation," or "Last Generation." 
AFRICAN ASYLUM SEEKER SMASHES UP GERMAN IMMIGRATION OFFICE, FORCING IT TO GO INTO SHUT DOWN
Tensions flared in Germany following frequent protests at airports, theaters and the Autobahn. At one point a woman grabbed a climate protester by the hair and dragged her to the side of the road.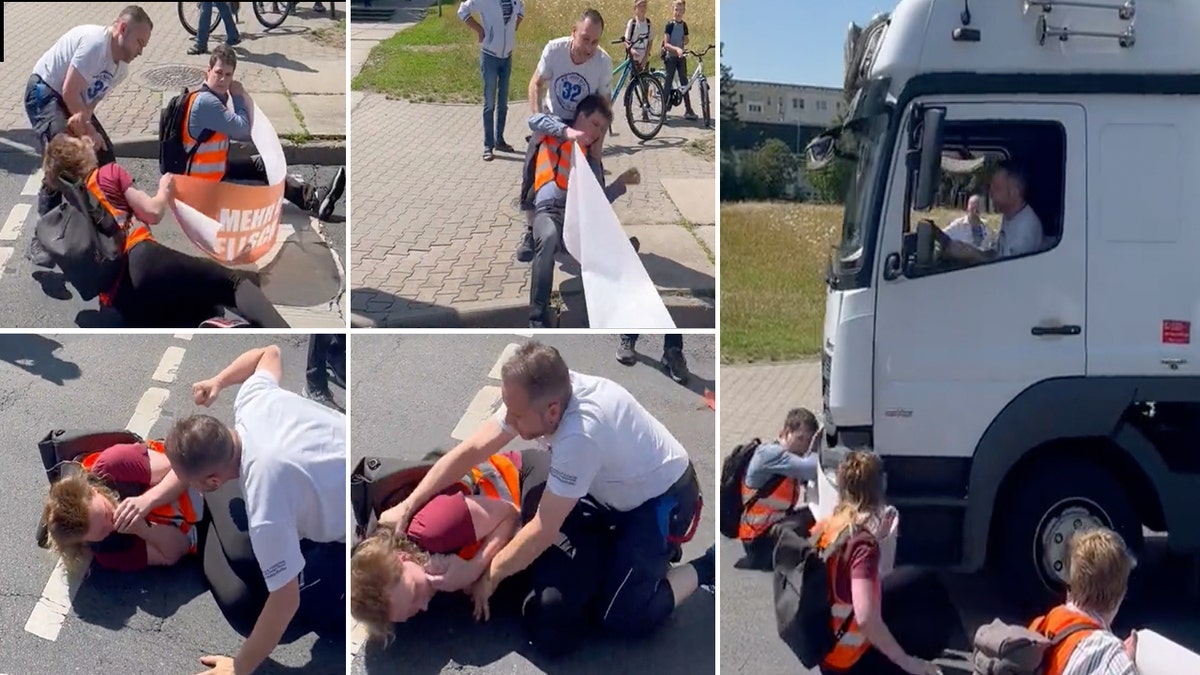 On another occasion, a trucker threatened to punch one of the protesters and ended up dragging one of them forward with his vehicle. 
Declare Emergency was contacted for comment and did not immediately respond. 
CLICK HERE TO GET THE FOX NEWS APP   
For more Culture, Media, Education, Opinion, and channel coverage, visit foxnews.com/media.