Anglers in Connecticut are reeling in what appears to be half-eaten fish, and it seems to be due to an ocean predator.
The Connecticut Fish and Wildlife put out a call for photos of half-eaten fish on Facebook on Tuesday, Aug. 15, and fishing pros and hobbyist shared images of their partial catches.
"Yesterday while reeling in this striped bass these anglers had an unexpected visitor who proceeded to chomp most of this Striped Bass in one bite," the CFW wrote in its post. "We hear of this happening more and more over the past couple of years."
'VAMPIRE FISH' SPOTTED TWICE IN CALIFORNIA'S AMERICAN RIVER, SUGGESTING ITS RETURN TO THE AREA 
Trevor Berwick, 33, a charter captain from Coventry, Connecticut, confirmed to Fox News Digital that sharks have been taking bites out of reeled fish – large and small.
Brown sharks, sandbar sharks and tiger sharks are the usual culprits, according to Berwick, who works at Real Cast Charters, a sport fishing charter company in Old Saybrook, Connecticut.
Berwick said the sharks seem to be active in the southern parts of the Long Island Sound, and on occasion, great white sharks have been seen in the area, too.
In the 12 years he's been charter fishing, Berwick says clients have been reeling in half-eaten fish in the last three or so years.
"We deal with them on a daily basis now. It's just kind of the way of the day," Berwick said. "[The sharks are] grabbing the back of fish, they're chasing fish, they're grabbing baits and it's just been getting kind of out of control."
SHARKS: 12 INTERESTING FACTS ABOUT THE MARINE FISH 
Reeling in half-eaten fish has yielded mixed feelings from fishing charter clients, according to Berwick.
When clients get to see the sharks as they take bites, excitement is stirred from the close-up encounters, he explained.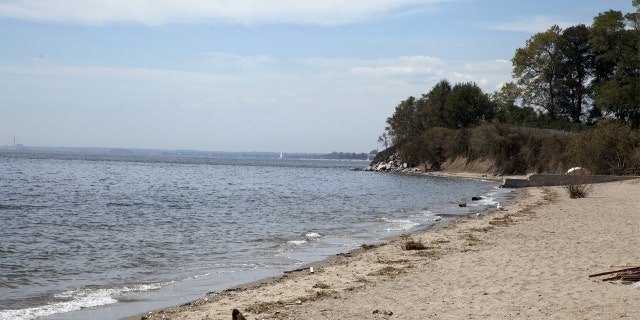 But, at the same time, not being able to fulfill the dream of catching a fully intact once-in-a-lifetime "trophy" is disappointing to some, especially when the uneaten fish remains show signs of being a large, according to Berwick.
Berwick said he throws the fish heads back in the water to respect the state's size limit, and usually nearby sharks will finish it off. Crabs and lobster could also benefit from the half-eaten fish, Berwick continued.
GREAT WHITE SHARK CAUGHT AT FLORIDA BEACH, GROUP CATCHES VIDEO TO PROVE IT 
Even for smaller fish, it's not immediately clear if a shark bite could contaminate the meat, he added.
"I don't know if it's a bait thing or if it's the temperature or whatever the case can be, but [the sharks have] just started to kind of move in from last year," said Berwick.
Fox News Digital reached out to the Connecticut Fish and Wildlife for comment.
Several other anglers replied to the CFW with photos of their half-eaten fish and shark sightings.
Elliot Thomas, of Kensington, Connecticut, said a shark in the Long Island Sound recently took a bite out of his hooked catch.
The incident happened on Wednesday, Aug. 2, in the East Lyme are of the sound. Thomas also managed to snap photos of the shark that bit his fish that evening.
RECORD-BREAKING FISH: HUGE CATCHES THAT MADE HEADLINES IN 2022
Jake Roczniak, of East Haddam, Connecticut, was night fishing on the eastern side of the Long Island Sound in August 2022 when a shark took a chunk out of his striped bass. 
"I was fighting [with the bass] and when it got near the side of the boat a shark bit my striper in half," Roczniak told Fox News Digital.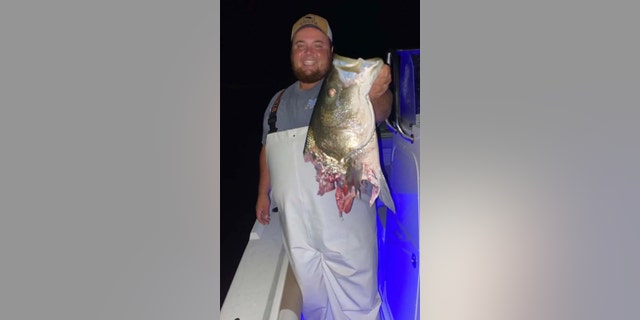 "I didn't get a great look at the shark, but it was either a small white shark or a brown shark," he continued. "Most likely a smaller white shark as I've seen them in the area before this happened days before and after."
Roczniak said he's noticed an increase of shark activity in the sound at the beginning of August each year.
FLORIDA FISHERMEN CATCH A WARSAW GROUPER THAT WAS BIGGER THAN A MAN: 'IT WAS A MONSTER'
Late last summer, Dale Chandler, of Griswoldville, Connecticut, also witnessed a catch get spoiled by a shark bite when he went fishing in the Long Island Sound from Clinton Harbor.
"Seen a shadow come and grab it as it was getting close to the boat. We think it was a small brown shark," he told Fox News Digital.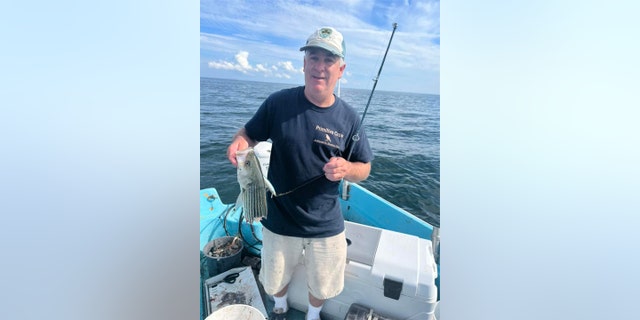 Anglers from other states also responded to the CFW's call for photos, including people who fish in the northeastern and southeastern coasts.
Brian Swiat, of Pine Bush, New York, had a large catch bit in half during a fishing trip in Rhode Island by a shark that "was going nuts next to the boat."
CLICK HERE TO SIGN UP FOR OUR LIFESTYLE NEWSLETTER
"[My] fish was caught alive in Block Island, Rhode Island, and bitten right before landing into the boat," he told Fox News Digital. "Not sure what kind of shark, but it's happening more and more frequently. Definitely makes us leery about putting our hands in the water anymore."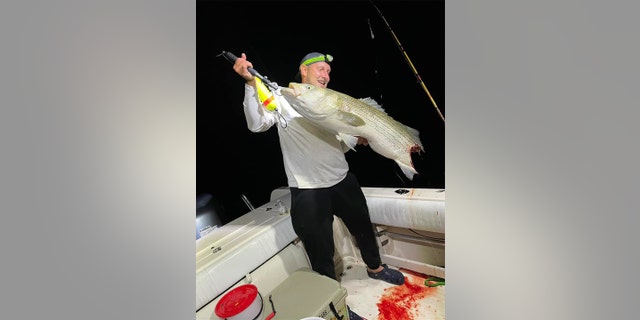 Steve Schipman, of Pensacola, Florida, said he has had to deal with sharks stealing and taking bites out of hooked fish when he ventures into the Gulf Coast.
The offenders are usually bull sharks, but sometimes they're also porpoises, he told Fox News Digital.
FOLLOW US ON FACEBOOK FOR MORE FOX LIFESTYLE NEWS
On more than one occasion, Schipman has had landed large Atlantic red snapper that have been half-eaten by the time he reels them in.
CLICK HERE TO GET THE FOX NEWS APP
"Sharks have become a real problem here for recreational fishermen," he said. "The limit on red snapper is two per person, per trip, and there are some days we can't catch a limit because we lose 20 or more to sharks."