Before the tabloid scrutiny, public breakup and tragic death, there was a fairytale wedding.
Nearly 1 billion people in 74 countries tuned in to watch Prince Charles, the heir to the British throne, marry shy nursery schoolteacher Lady Diana Spencer July 29, 1981. The wedding gown she wore is still considered one of the most iconic bridal looks of all time.
Designer Elizabeth Emanuel's life forever changed when she received an unexpected phone call at her studio leading up to the "wedding of the century."
ON THIS DAY IN HISTORY, JULY 29, 1981, PRINCE CHARLES AND LADY DIANA SPENCER MARRY IN LAVISH CEREMONY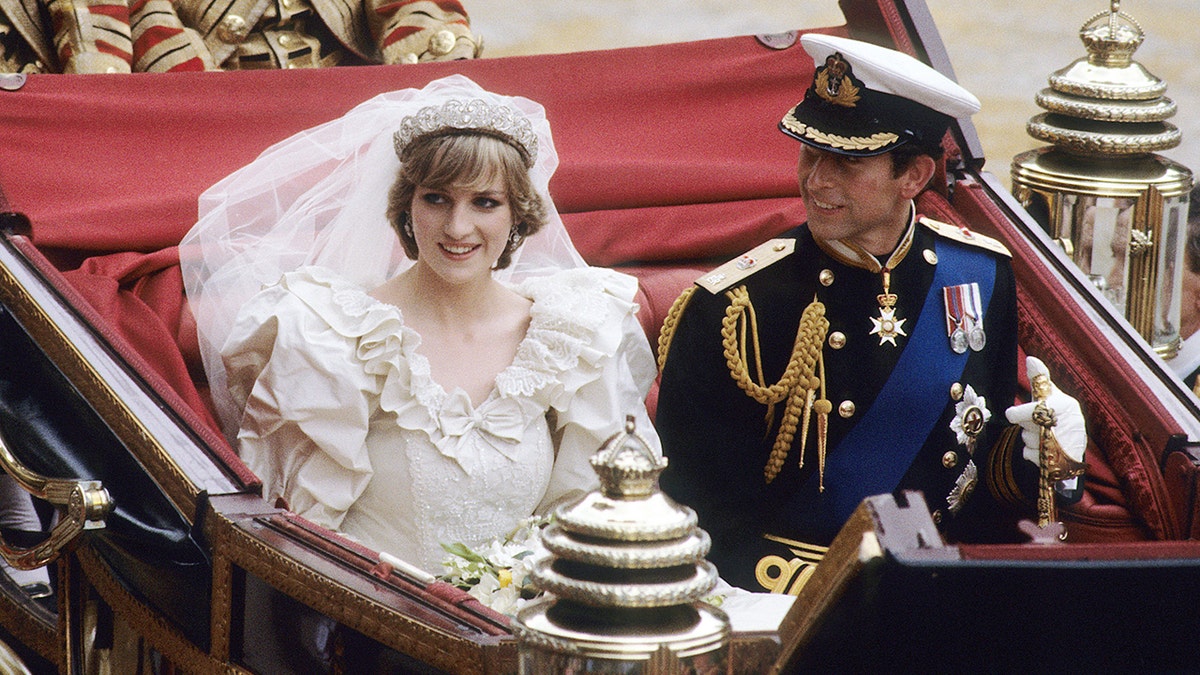 "I picked up the phone, and it was a young woman who spoke very quietly," Emanuel recalled to Fox News Digital. "She gave me a name, and I don't remember what exactly I wrote down. But she wanted to come in and look at some of our clothes. We certainly weren't expecting Diana. And when she turned up, it was a complete surprise for us. We were stunned."
Diana, who was already by then one of the most famous women in the world, showed up with one guard. The British aristocrat was far from the style icon she would later become.
But Diana had a vision for what was supposed to be the most important day of her life.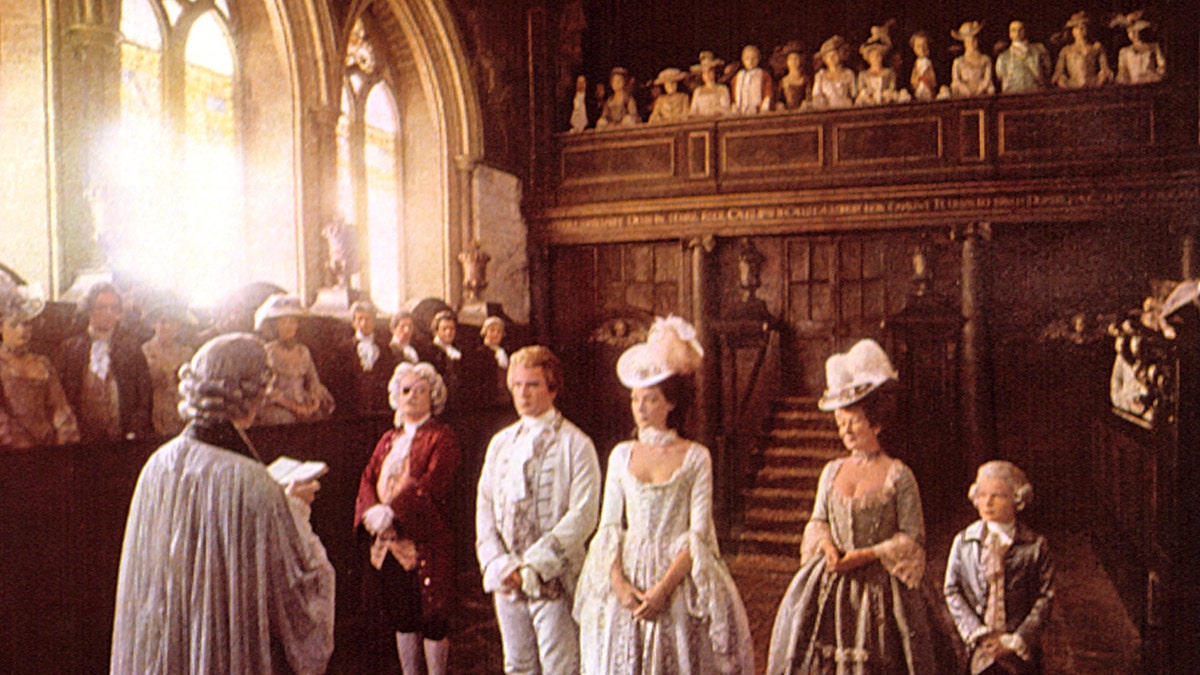 "The collection that I was creating was frills, lace and romantic ballgowns — all magical things," Emanuel explained. "This was a time of the 'new romance' [trend] of frilly necklines and voluminous sleeves. She loved all of that."
Diana first discovered Emanuel and her husband at the time, designing partner David Emanuel, when she posed for Lord Snowdon, Princess Margaret's ex-husband. For the 1981 shoot, Diana wore a pearl-hued blouse with a high neckline by the duo.
CLICK HERE TO SIGN UP FOR THE ENTERTAINMENT NEWSLETTER
"The first thing I noticed was that she was very tall," said Emanuel. "She was also incredibly shy. She had a fringe and would peer up from under the fringe like what you would see on television. She was very soft-spoken and really sweet. She was just a girl. Diana was 19 when she came to see us. We were just a few years older, so we got on straight away."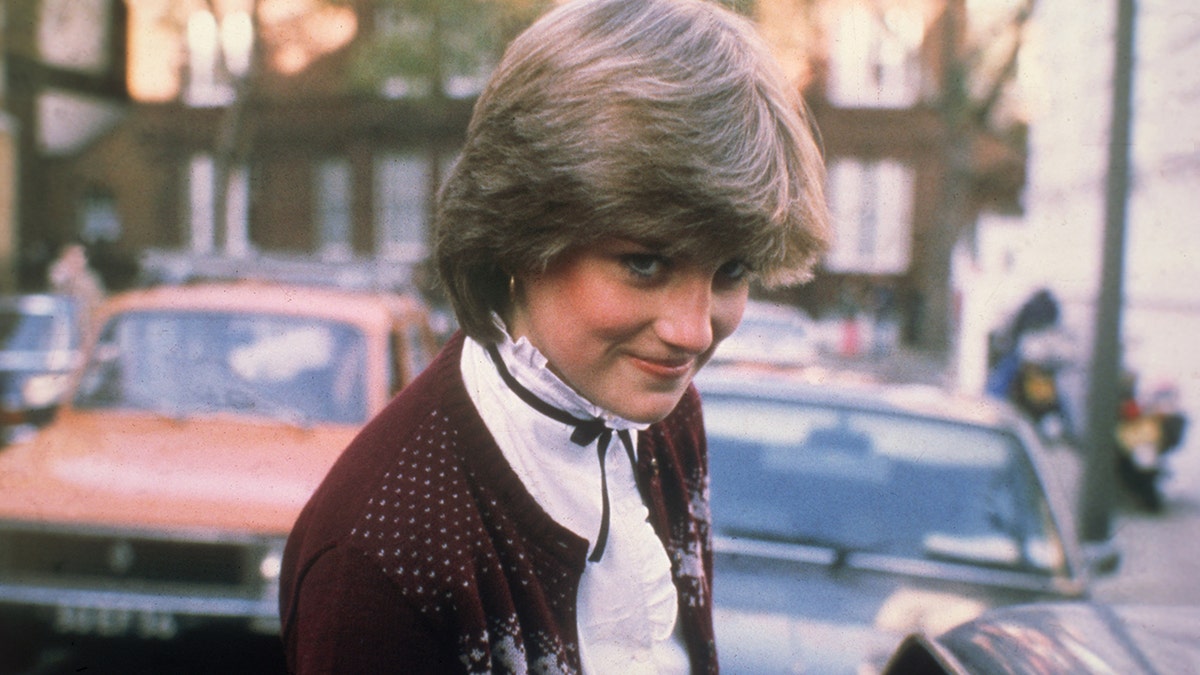 "I remember she wore a simple sweater, a gathered skirt and flat shoes with a simple row of pearls," Emanuel shared. "We had lots of clothes on the rails, and she was just so excited to try them on. We had a lot of fun. She was quite delightful."
Emanuel admitted that she and her husband "were the nervous ones" as Diana appeared surprisingly calm.
"We had a deadline, and we needed to create a fabulous fairytale dress that we wanted everybody to love, but more importantly, we wanted Diana to love," she explained. "It was a huge responsibility. It weighed over us. But Diana never looked stressed or worried. She took it in stride. She was quite laid back about it, which is just as well. It would've been difficult if we were all panicking."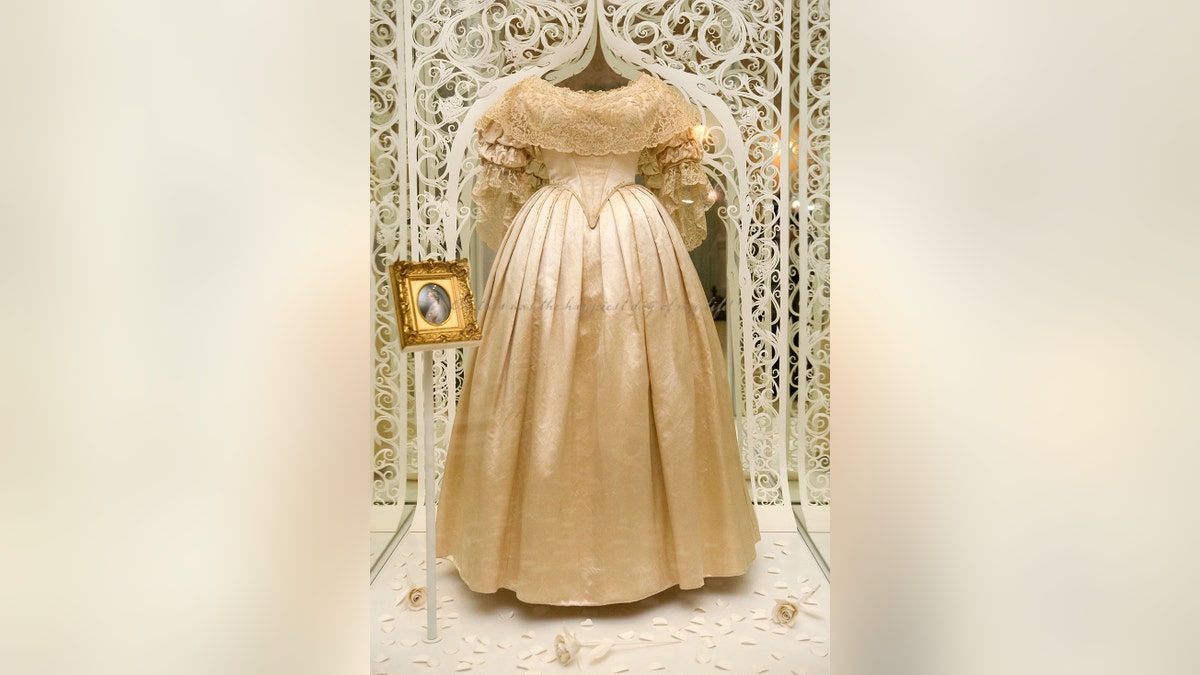 The biggest challenge the designers faced was keeping the dress top secret. Photographers would show up to Emanuel's studio daily, eager for a peep of the future princess coming in for a fitting. Many would often rummage through garbage bins, hoping to find any scraps of fabric from the wedding gown. Emanuel and her team would purposely toss various threads of different colors to throw them off. Two security guards stood outside the studio nightly.
ON THIS DAY IN HISTORY, AUGUST 28, 1996, PRINCE CHARLES AND PRINCESS DIANA OFFICIALLY DIVORCE
The phone rang constantly as reporters begged for a scoop, insisting they would lose their jobs and be forced to pull their children out of school. Emanuel locked away pages and pages of sketches.
"It was horrible," Emanuel admitted. "We were in a really difficult position. We didn't have any experience dealing with the amount of press we got. It was quite stressful. And it was so scary, knowing the whole world was waiting to see what we were going to make for her."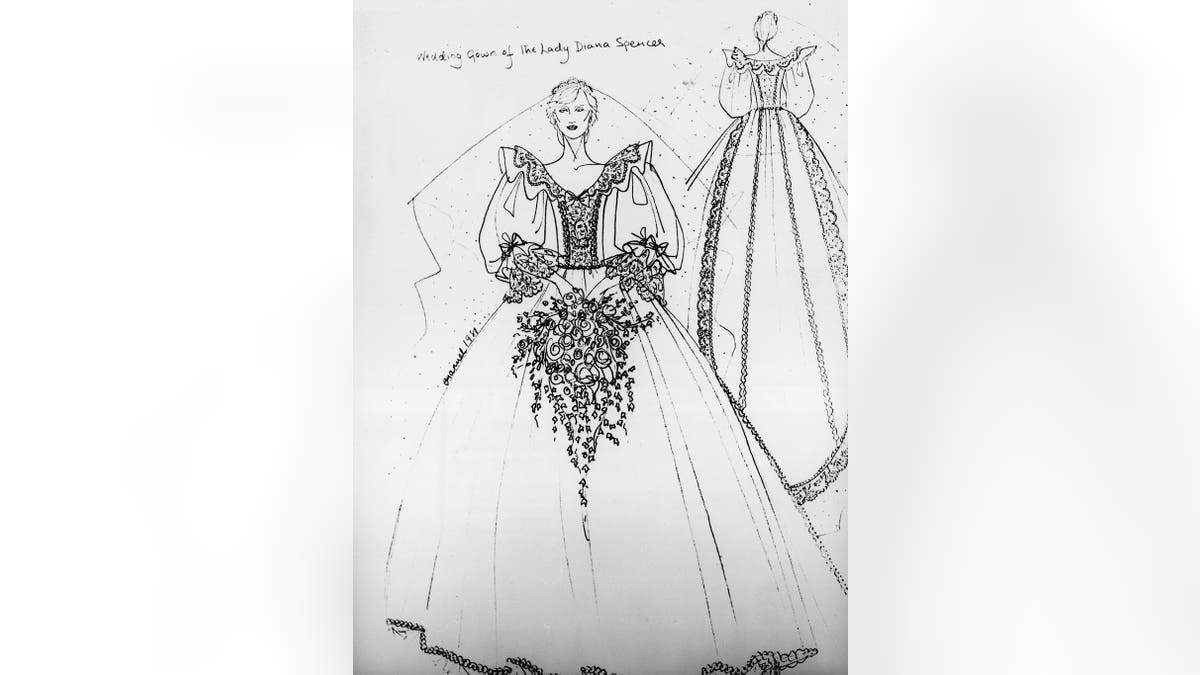 Despite the scrutiny, Diana put her trust in the designers.
"She had a lot of faith in us — complete trust," said Emanuel. "We had nobody telling us what to do or what not to do. We could have done anything. We didn't have any input, not even from Diana, nor the palace — anybody. We were just out of college and had loads of ideas that we wanted to do."
Emanuel said she was inspired by the 1975 period drama "Barry Lyndon," her trips to Paris and the Royal Ballet. But she also looked to Queen Victoria's wedding dress. The late monarch said she "wore a white satin gown with a very deep flounce of Honiton lace, imitation of old." It featured a satin train that was over six yards long and was carried down the aisle by 12 attendants.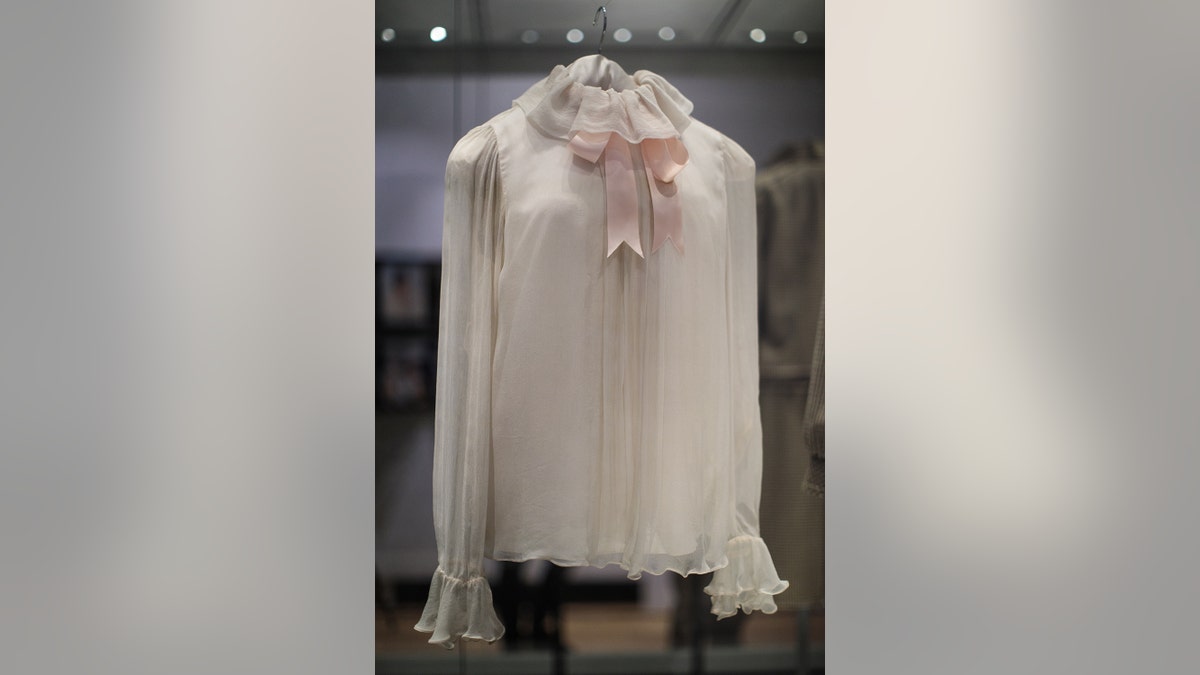 Emanuel said she created a backup wedding dress just in case. It was never fully completed.
"I always like to be prepared," Emanuel chuckled. "I just thought to myself, 'What if somebody breaks in?' I thought, 'Let's create a different design. We won't finish it. And if something happens, we will finish it at speed.'"
"Fortunately, that didn't happen," Emanuel shared. "I don't know what happened to the dress."
DIANA, PRINCESS OF WALES: A LOOK INTO THE FASHION ICON'S TAILORED STREET STYLE AND EFFORTLESS OUTFITS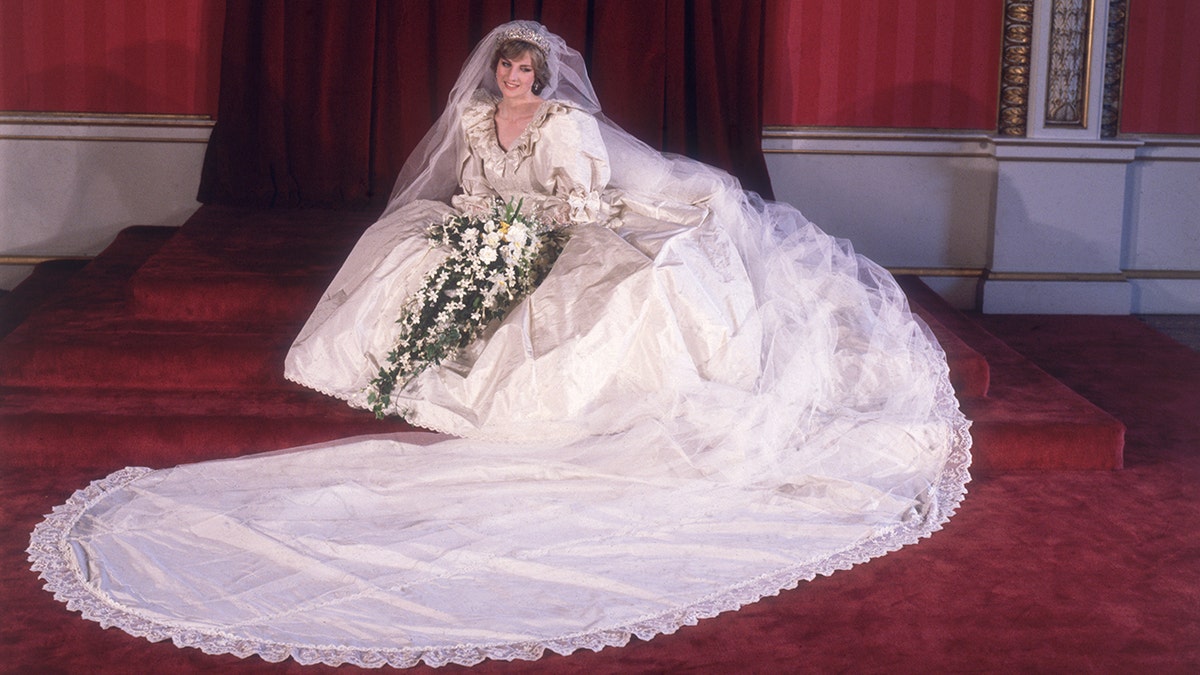 Emanuel and her team were present to make sure Diana looked perfect for her wedding day. The silk taffeta dress was specially woven and dyed ivory, People magazine reported. According to the outlet, it featured a ruffled collar, puffed sleeves, a voluminous skirt, as well as a 25-foot train and a 153-yard tulle veil. The veil, hand-stitched with 10,000 micro-pearls, was meant to emulate fairy dust.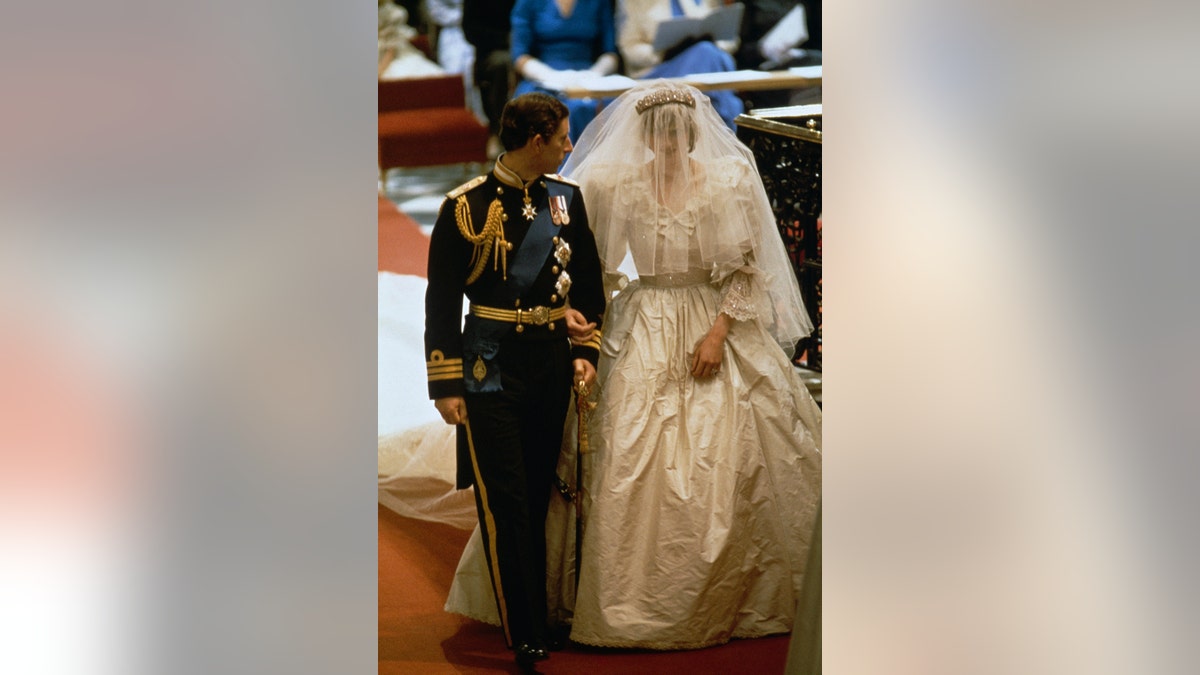 Emanuel said she was "horrified" when she saw Diana step out of her carriage as she entered St. Paul's Cathedral.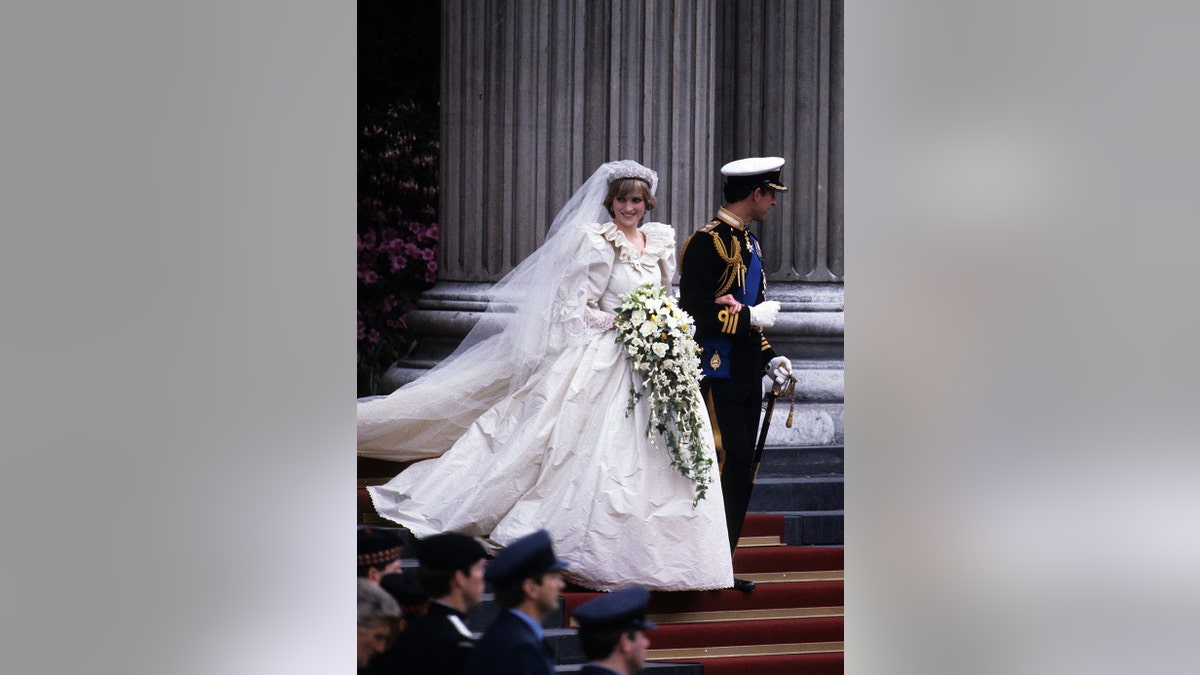 "My reaction was, 'The dress is creased!'" she said. "I knew the fabric could get creased because it was just heavy silk taffeta. But it was a heart-stopping moment for me. … We had been building up to this moment for three weeks, and then it was all over very quickly."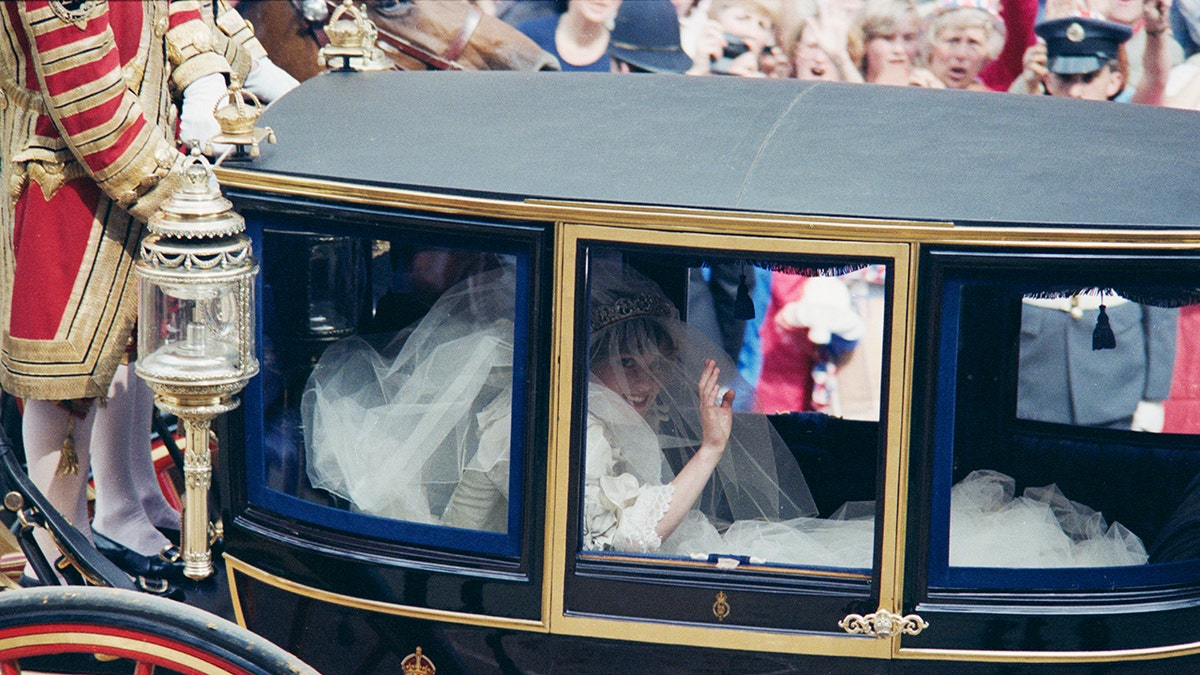 The train was so long that it had to be folded like a bedsheet just to fit into the carriage, creating wrinkles.  It broke records as the longest in royal wedding history.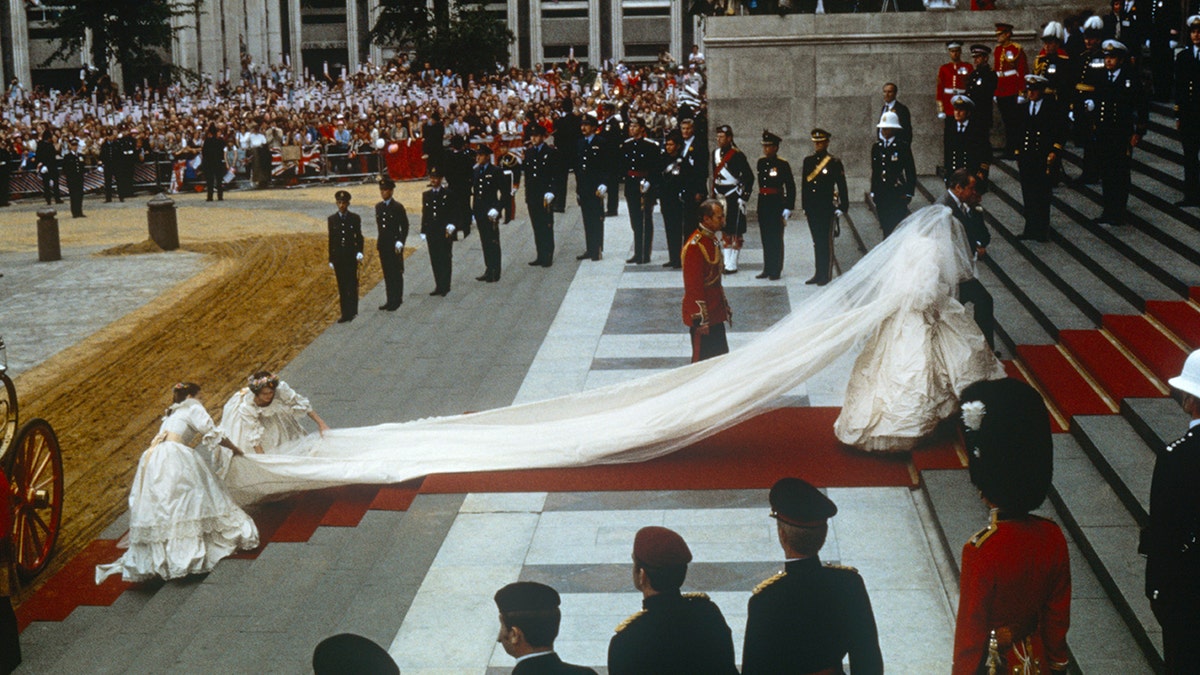 Diana completed her look with the Spencer Tiara, antique lace from Queen Mary as her "something old," a blue bow inside the bodice as her "something blue" and a hid an 18-carat horseshoe trinket studded with white diamonds for good luck.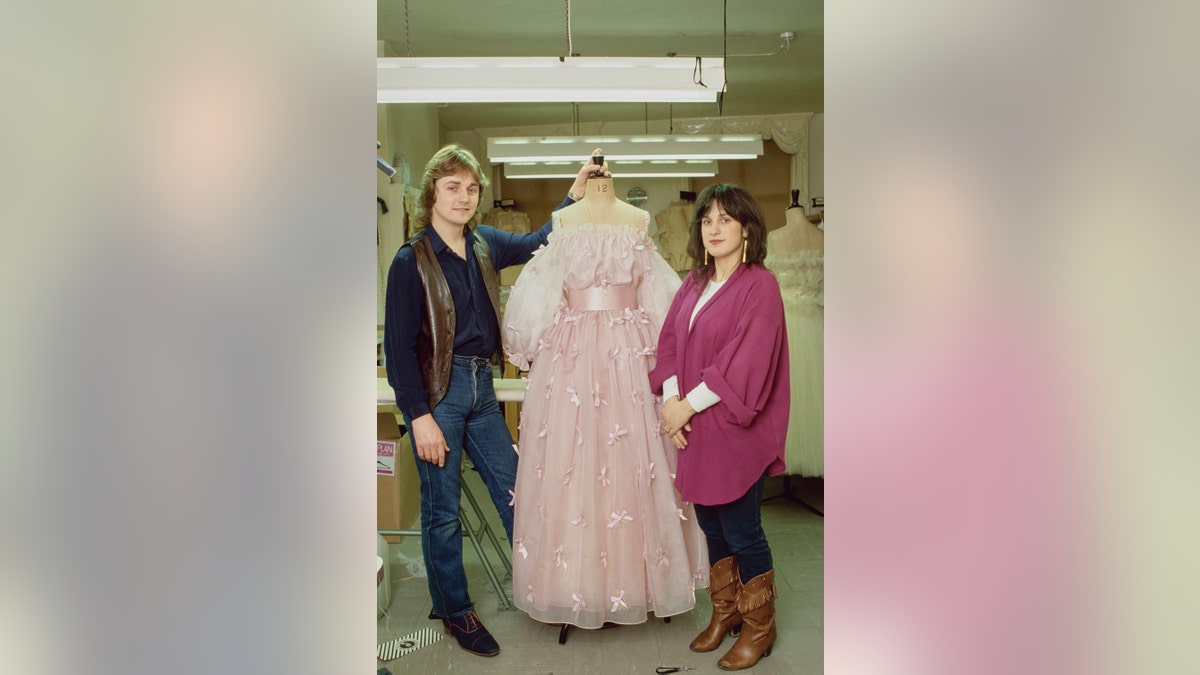 "It was such a theatrical moment, watching her," said Emanuel. "She was just so radiant. I remember the veil was caught in the wind, and the dress suddenly unfolded like a butterfly coming out of a chrysalis. … I don't know if you'll see anything like that again. We wanted her to look like a fairytale princess, and I think we accomplished it."
MEGHAN MARKLE, KATE MIDDLETON HAVE INVOKED PRINCESS DIANA AS WIVES, BUT HER LIFE CARRIES WARNINGS: EXPERT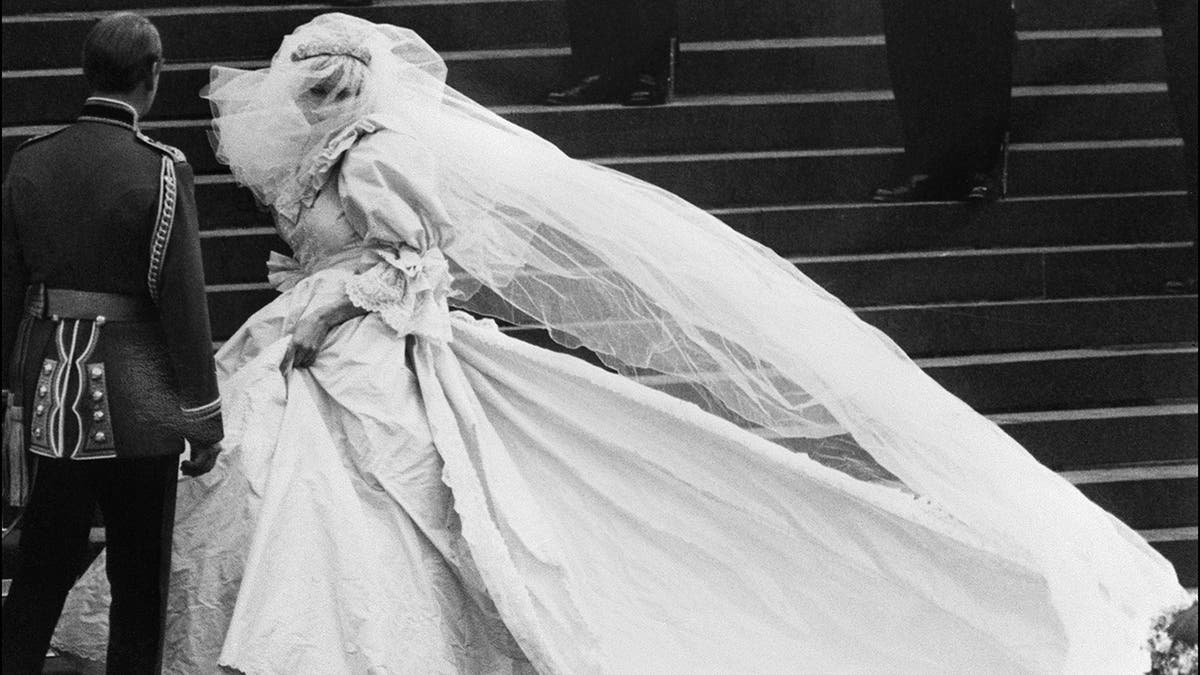 But a happily ever after was not to be. The Prince and Princess of Wales finalized their divorce in 1996. Emanuel last saw Diana shortly before Diana died in 1997 at age 36.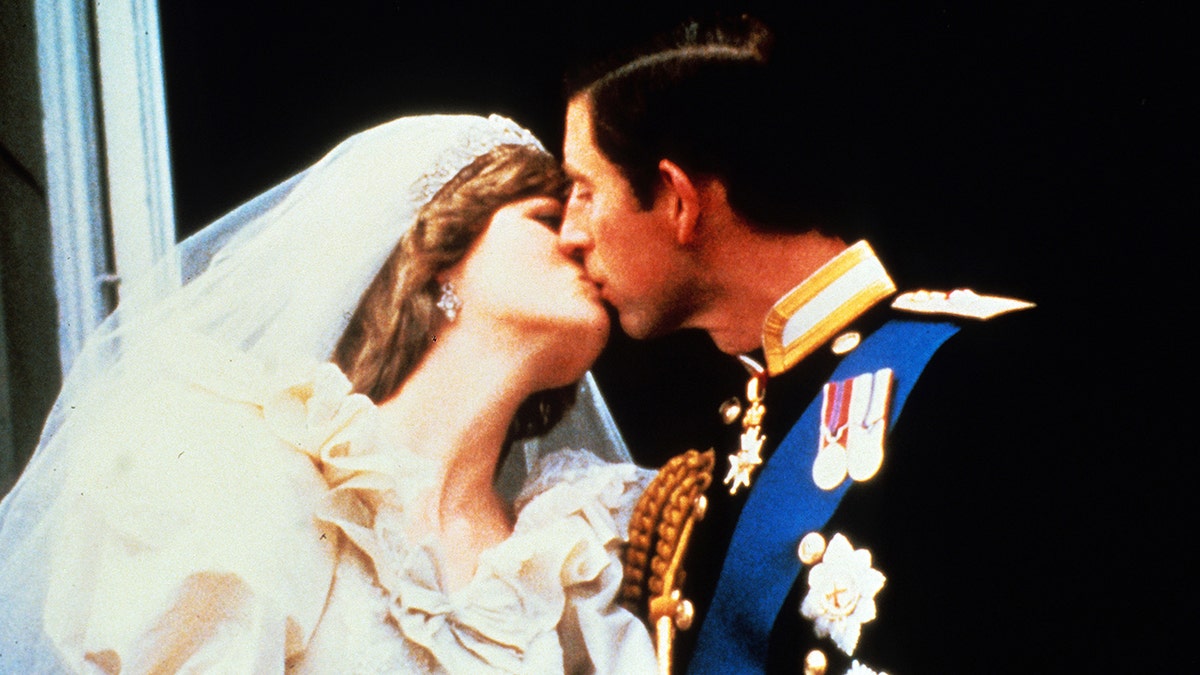 "She looked fantastic," said Emanuel. "By then, she had her own style. She was very confident. She wasn't the shy Di we once knew."
Emanuel went on to design pieces for several other celebrities, including Madonna and Cher.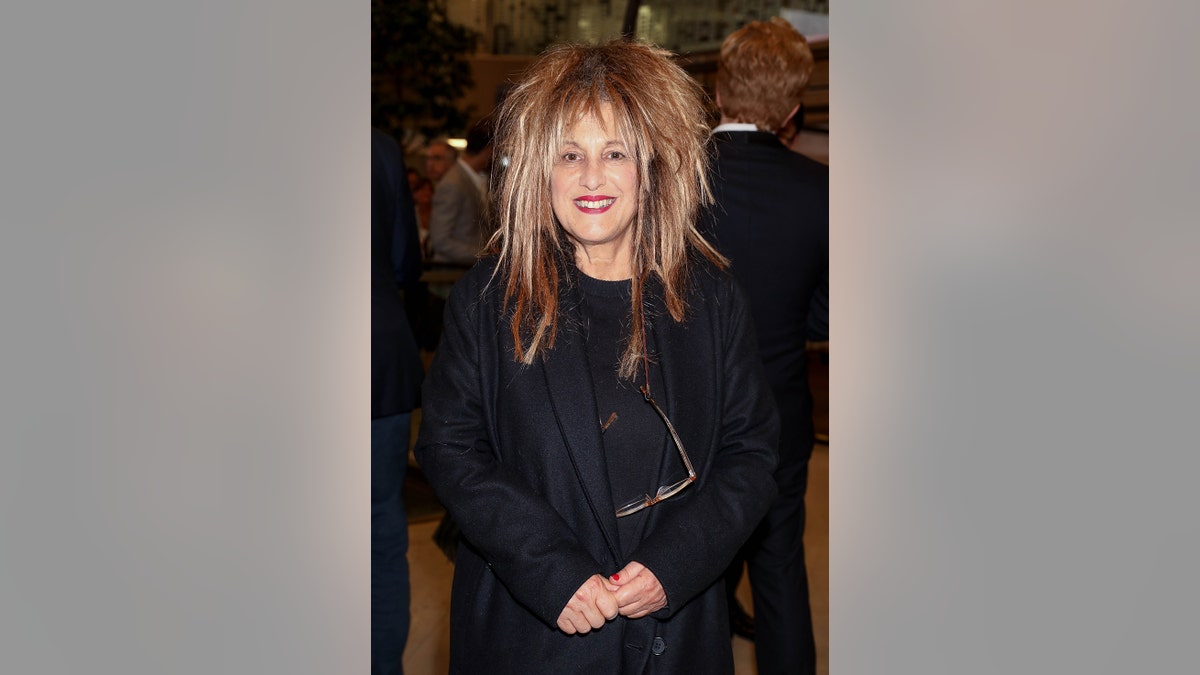 "Madonna's stylist saw one of the jackets I created for Cher and asked if I would be interested in doing some of the outfits for her 'Madame X Tour,'" said Emanuel. "That was so exciting to me. I've always been influenced by her look. … Designing Diana's dress was the most life-changing, amazing thing, and it was such an honor. But it's quite hard as a designer to ever try and match that."
Doing a fitting with Elizabeth Taylor in Paris was also a highlight.
"She let me try on the Krupp Diamond," Emanuel recalled. "It weighed a ton!"
ELIZABETH TAYLOR'S 'ROMANTIC FRIENDSHIP' WITH COLIN FARRELL 'REMINDED HER OF HER GREAT LOVE,' AUTHOR CLAIMS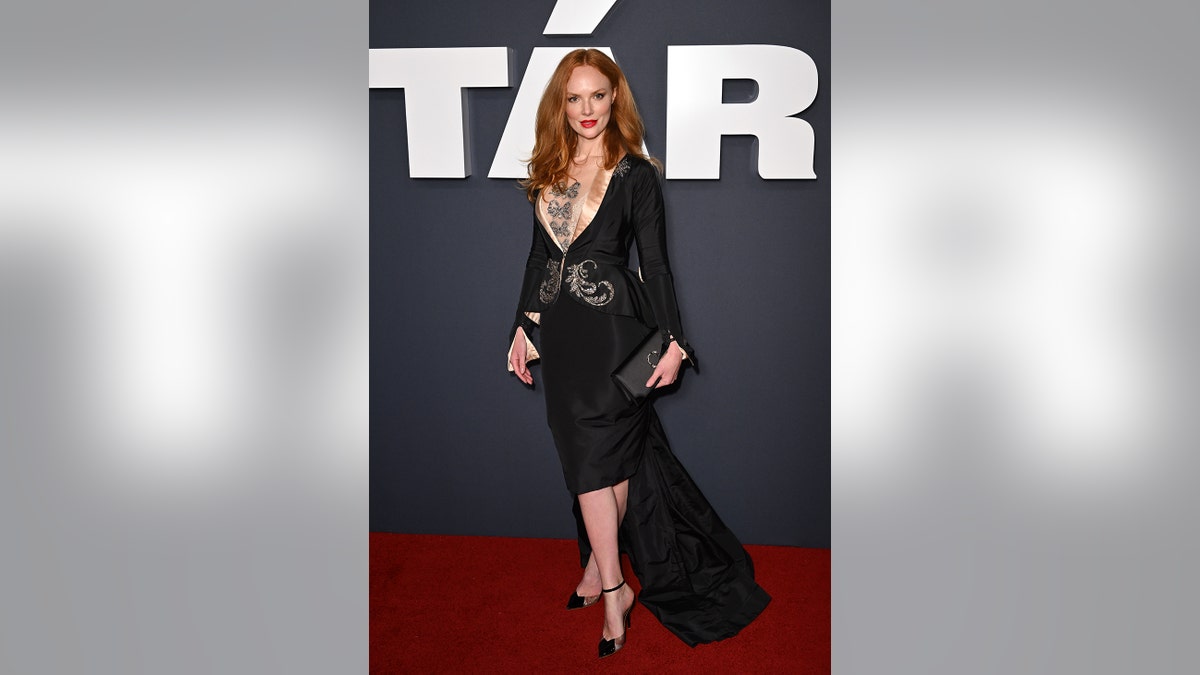 As she continues to design, her dream star to dress would be Lady Gaga.
"I'm on an amazing journey," she gushed. "It's a new chapter."
The Associated Press contributed to this report.