The author of the exhaustive biography on Barack Obama's formative years says legacy media outlets like the New York Times and Washington Post have grown "so politicized" when asked about the apparent lack of press curiosity about the 44th president's continued proximity to power in Washington, D.C.
While talking with "Rising Star" author David Garrow in an interview published earlier this month, Tablet literary editor David Samuels mentioned Obama's physical proximity to the Biden White House – which is stocked with Obama administration alumni right up to President Biden himself – and said he found it strange that more reporters weren't glued to his D.C. brick home. The Obamas purchased a mansion in the ritzy Kalorama neighborhood of D.C. after leaving office.
"Doesn't that strike you as odd?" Samuels asked Garrow. "I mean, I have heard from more than one source that there are regular meetings at Obama's house in [D.C. neighborhood] Kalorama involving top figures in the current White House, with Secret Service and cars outside. I don't write about it because it's not my lane. There are over a thousand reporters in Washington, and yet there are zero stakeouts of Obama's mansion, if only to tell us who is coming and going. But he clearly has his oar in."
OBAMA BIOGRAPHER ON WHERE THE EX-PRESIDENT FAILED AT HOME AND ABROAD. AND HOW HE MAY HAVE HELPED DONALD TRUMP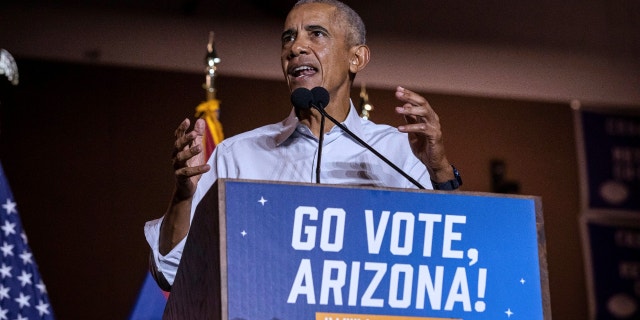 Garrow, the author of the lengthy "Rising Star" that delved extensively into Obama's life before he rose up in Illinois politics, said it didn't surprise him that outlets weren't as keen to keep an eye on the former president.
"[Samuels] made it clear that he had this theory that Barack as ex-president was way more politically influential than any of the rest of us perceive," he told Fox News Digital. "I mean, my impression is that Barack is spending most of his time at Martha's Vineyard and, you know, supervising Netflix series. And so I don't have any firsthand awareness of what David Samuels was quite convinced of in that vein."
"I go back 45 years in this. I was first in The New York Times in 1978 when my first book on the Voting Rights Act came out. I knew a whole panoply of New York Times reporters 30 years ago. And it's not news to say that neither the Times nor [the Washington Post] today is what they were even 20 years ago," Garrow added. "The New York Times of today is in qualitative terms, doesn't come close to what the Times was 20 years ago. That's not news. Same thing with WaPo. I'm a former [Democratic Socialists] member, former Bernie Sanders donor. But WaPo and the Times have gotten so politicized."
The Times and the Post didn't respond to requests for comment.
OBAMA BIOGRAPHER ON LETTERS TO 44'S EX HE HOPES THE PUBLIC NEVER SEES, HOW MICHELLE CHANGED SINCE CHICAGO DAYS
Samuels was withering about Obama continuing to have a residence in D.C. in his interview with Garrow, calling him guilty of "violating a norm governing the transfer of presidential power which has been breached only once in post-Civil War American history, by Woodrow Wilson, who couldn't physically be moved after suffering a series of debilitating strokes."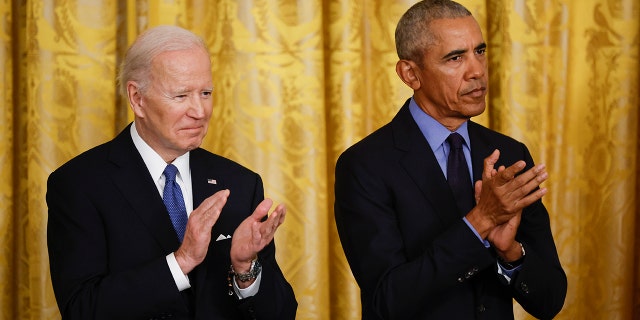 "In the Obamas' case, the reason for staying in D.C. was ostensibly that their youngest daughter, Sasha, wanted to finish high school with her class at Sidwell Friends. In June 2019, Sasha went off to college, yet her parents remained in Washington," Samuels wrote. "By then, it was clear to any informed observer that the Obamas' continuing presence in the nation's capital was not purely a personal matter. To an extent that has never been meaningfully reported on, the Obamas served as both the symbolic and practical heads of the Democratic Party shadow government that 'resisted' Trump—another phenomenon that defied prior norms."
Garrow's biography received mixed reviews when it came out in 2017, with some outlets praising its comprehensive approach and foray into previously unexplored facets of Obama's life, while others said it was overlong and stuffed with extraneous details. The book was noteworthy in part for containing Obama's letters to and interviews with past girlfriends before Michelle Robinson, who became his wife and the future first lady.
Garrow told Fox News Digital that President Obama once told him that he hoped he never got access to letters he wrote to Sheila Miyoshi Jager, whom he proposed to before Michelle.
CLICK HERE TO GET THE FOX NEWS APP
"Barack made it clear to me that he hoped I would never read them, I can put it that way. I think if the letters to Sheila ever become public, I think that will be a signal event," Garrow told Fox News Digital. "Those letters would detail just how extremely serious and extremely intense a relationship that was and that it continued off and on into his Harvard Law School years."
Fox News' Brian Flood contributed to this report.
For more Culture, Media, Education, Opinion and channel coverage, visit foxnews.com/media